Features
Fully automated stack up generation
Rigid & Rigid-Flex modelling
Accurate impedance calculations
Crosshatch reference layers
Intuitive and easy to use
Fully customizable reports
Calculates post squeeze out Dk/Df
Preloaded with over 100 materials
Easily add and manage materials
Reduce cycle time and costs
Model sub-assemblies, microvias, back drilling
Heatsinks and IMS builds
Standalone and network installations available
Jobs are revision controlled
Fully Automated
Arkeo Stack is a fully automated stackup generation tool that quickly builds accurate and cost conscious stackups. Reduces engineering time and costs and creates consistent builds. System comes preloaded with over 90 material sets, reducing implementation time.
Intuitive, Easy to use Interface
Arkeo Stack was designed with the user in mind. With an easy to use and intuitive interface, Arkeo Stack allows users of all skill levels to accurately model even the most complex builds. Jobs are fully revision controlled making it easy to see all the changes that were made.
Detailed Custom Reports
Arkeo Stack has a custom report generator that builds reports to suit the specific needs of your company. Multiple reports can be setup allowing you to have custom reports for specific needs (internal user, send to customer, engineering details, etc).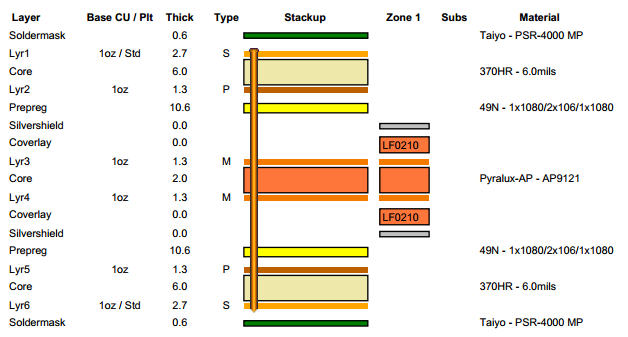 Built-in Panelization
Built-in panelization layout tool. Layout panels with individual boards or arrays, add coupons, rails, etc. Arrays can be laid out by fixed array size or by a matrix of boards. Full dimensions can be added to arrays. Configure to match your panel sizes & spacing and coupon types & sizes.